>
Welcome

to the website of the
Crystal Palace Campaign


The Crystal Palace Campaign is a popular movement which has successfully prevented a 20-cinema multiplex from being built on the historic, Grade II* listed site in Crystal Palace Park where the rebuilt (Sydenham) Crystal Palace used to stand.
We are now engaged in a dialogue process, which we initiated, to see the results through to a successful conclusion i.e. an arrangement in place to allow full and proper consultation with local people and others .


Updated: 13 January 2016




CRYSTAL PALACE

OVERGROUND FESTIVAL 2015

- a celebration of music, arts and culture, is turning to local residents in a plea for support to ensure this year's festival remains largely free of charge. "This is your festival now more than ever we can't do it without you!" - Noreen Meehan, Crystal Palace Overground festival Director.

Area Survey - architects00

joining the dots.............

Architects00 have been commissioned to carry out a study across Upper Norwood, Anerley and Penge - with a view to understanding the priorities across the five boroughs:

Saturday 11 OCTOBER

LINK to flyer on details......

ZhongRong -

Short report on the ZhongRong-Arup drop-in session held at Anerley Town hall on 1 February 2014 - includes link to video of Arup talk




PARK WORKING
GROUP


Spawned from the work of the old facilitation process, set up by the amenity groups and including local boroughs, councillors, English Heritage and many others, the Park Working Group set up a conference on Crystal Palace Park on 20th May 2011. There have been important consequences recently highlighted in a Bromley Council press release and picked up by BBC London News.

GO TO:

Conference of 20th May 2011
Bromley News Release 7 October 2011
BBC London News
Project Management Board - Proposal Details

Link to Call-in Inquiry information




Master Plan Note

[Ed note: Master Plan - about 60 applicants from a world-wide collection of architectural and landscape architects initially applied.This was reduced to 20 by Bromley Council and the LDA. The short list of seven for interview was then generated by a selection panel consisting of a variety of advisory architectural practices and landscape architects and included two members who were from the local community. Following the interviews, this team then picked Latz and Partner as the Master Planners. The Master Plan was delivered to Bromley Council in November 2007.]




Sir Joseph Paxton (1803-1865), gardener & architect,
creator of the original Crystal Palace in Hyde Park in 1851.


Regeneration Plan

A number of items were extracted from the Master Plan and a limited scope defined to conform to the original but at a lower budget. The selection process involved consultation with the local community and others and begins the process of regeneration to the Master Plan blue-print.

Cafe: The starting point was the sketch in the master plan but developed into the current barn-shape which gives a distinct rural flavour to the profile.

A green roof was considered but added to the cost - a stronger structure was needed to support the weight of the roof and there was the problem of maintenance. The high ceiling at the top level, formed by the roof apex creates a special barn atmosphere in the interior but will contribute to higher sound reverberation times. A walkway links the top level and the boating lake (see above image; people in the trees are at lake level and the walkway is on the far side of the building!). All-in-all, this a very good, high quality design in keeping with the budget available, but as always, it will be important to get the details right both in design and construction.

Deadline: for tenancy/operator bids - Thursday 27 August 2015....full document (Bromley press release) link.




EXCITING MOMENT

On behalf of the London Development Agency Robin Buckle delivers the Master Plan to Bromley Council. The deed was done on the 1st November (2007), and acknowledged by Bromley Council on 2nd November. This is the first of three elements of the planning application - the other two concern 'listed buildings' and the 'conservation area'.

Bromley will shortly formally register the document and will then begin the normal consultation/comment process. Because of the size of the application (count the boxes!), special arrangements are being made to view it at Bromley Headquarters and the process will extend longer than usual simply to give everyone a chance to read and comment on the huge amount of material.

As soon as more detail about the planning registration number, viewing etc. becomes available it will appear here!

Exciting Moment... This is the culmination of the Master Planning phase of the move to regenerate the Park and the result of a vast amount of work commissioned by the LDA. This phase was one of the most expansive consultation process of any planning application of this type. The consultation kept the Master Planners informed about community aspirations and directly influenced many of the choices they made. It gave many thousands of people a chance directly to have their say.

The Crystal Palace Campaign have always promoted consultation. We initiated the Dialogue Process more than five years ago and have supported it since. We will continue to do so in the phases to follow. Our supporters can be proud of the achievements so far and look forward to the new future for Crystal Palace Park.
Grouped items see Themes page...or
try our SEARCH page for site searching.
Baffled by ACRONYMS? Try our Glossary page.

"There is no city like London. It is a wonderfully diverse and open city providing a home to hundreds of different nationalities from all over the world. I can't think of a better place than London to hold an event that unites the world." - Nelson Mandela...

see....London 2012 Olympic bid website
---
Fine print section:
please let us know your email address if you want to receive e-mailed news from us
if you have already received e-post, then you are on the list
if you know someone who doesn't have email, then please let us know (we'll use snail mail)
get friends to pass us their email addresses
persuade your friends to get on the email list - see contact link below - even its simply to keep in touch
there will be more activity than before later in 2011 including information on meetings, consultation and participation - the more emails we have, the better

For old "Season's Greetings" messages and various other archived material go to Archive Index.
First "uploading" of the web site - 4th October 1998. Website moved server - June 2007. Every effort is being made to keep the contents informative, up to date and accurate. However... comments on the contents please e-mail
webmaster
Last updated: 13 January 2016; archived seasons greetings to A47
NOTE: if you don't have the "frames" of this website up and running, you might have entered this website awkwardly
click here>>> go to index.htm to get to the best screen arrangement.
Browsers: these web pages are tested with Internet Explorer and Safari.
Archive: much material is archived - see index - e.g. A18 for Who We Are and Core principles.
-------keep coming back to this site, it's always changing-----
---
Sir Joseph Paxton - the leading photograph above is of a sculpture by W.F.Woodington, 1869: it now stands facing the sports stadium, Paxton's back is towards the old Palace site! In 1823 Paxton moved to the Horticultural Society in Chiswick and entered the date of his birth as 1801 - an action which mislead many an historian. In fact he was born on 3rd August 1803 in a small village called Milton Bryan a few miles south-east of Milton Keynes in Bedfordshire. He died on the 8th June 1865 at Rockhills in Sydenham, south London, having seen his great building, Crystal Palace, for the last time in May of that year. He was wheeled in a chair through a flower show and, although surrounded by the plants he had always loved, he was unable to complete the journey.
The bust was cleaned in August 2012.
---
You are the
...visitor.
Click on the Sphinx to get a higher resolution picture (it's a great screen background).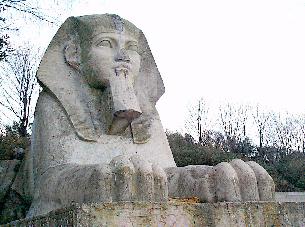 Good story of progress for fixing the sphinxes - see CSG website.
---
Top of Page